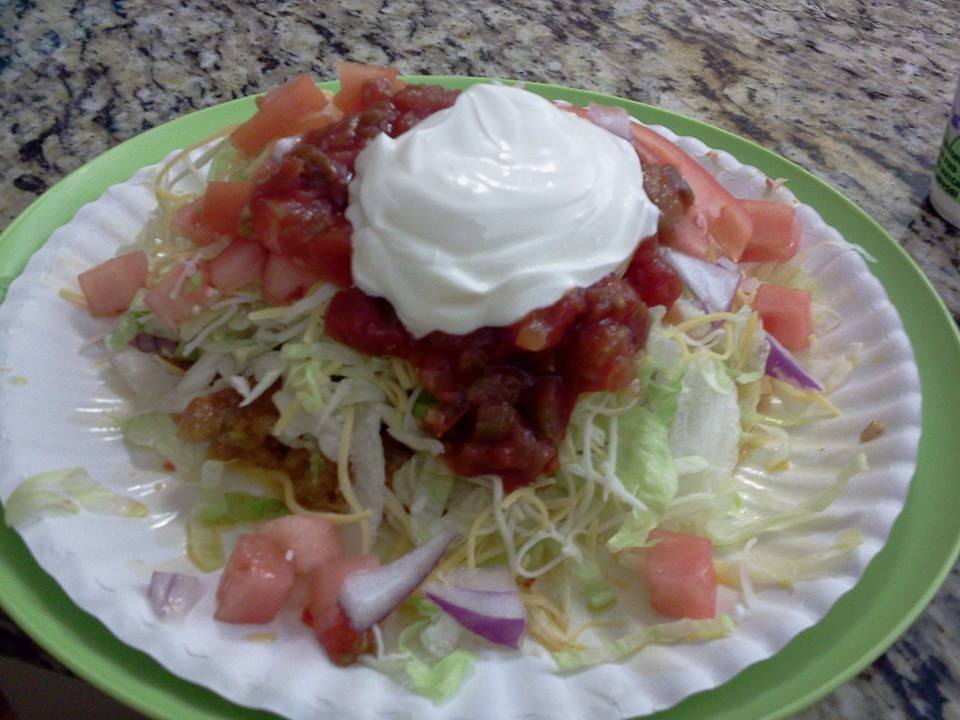 FaceBook Name: Thor Baker
Creator of the Recipe: Thor Baker
Recipe Name: Fire Roasted Mexican Chicken
Estimated Prep Time: 45
Ingredient List and Amount used: 1-2 pounds of boneless/skinless chicken thighs cut into bite size pieces,, 1/4 red onion slivered,, 1 small can green chilies,, 1-2 cloves of minced garlic,, 2 cups of mixed Mexican cheese shreds,, 1 cup of mixed Mexican cheese shreds,, Shredded Lettuce,, diced tomato,, Low carb salsa,, Sour Cream,, Spices: Salt, Pepper, Paprika, Cumin.,,
Recipe instructions: I did this out on the grill but it can be done in the kitchen on the stove. I fried the chicken in a large skillet until partially cooked then added in the spices, onions and green chilies, stirred for a minute or two. I then covered the top with 2 cups of cheese shreds and placed int he oven or in this case closed the lid on the grill and roasted till all of the cheese was crusted over. I plated this up by cutting into squares topping with lettuce shreds, salsa, diced tomatoes, onion, hot sauce and sour cream.
General Comments : For the more adventurous type add in some Jalapenos to the mix. Carb counts would be difficult on this meal as everyone will have their own variation. It is low though, I eat with total disregard.
Estimated Servings:
Calories per Serving:
Carbohydrates:
Fiber:
Carbs-fiber:
Protein:
Fat:
Type of Recipe: "Mexican"
(Sent via T2DCoaching http://t2dcoaching.com )