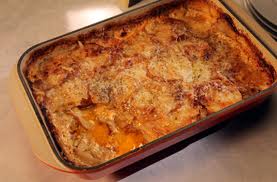 FaceBook Name: Thor Baker
Creator of the Recipe: Thor Baker
Recipe Name: Scalloped Cod with Shrimp
Estimated Prep Time: 75
Ingredient List and Amount used: 1-1/2 pounds of Cod,, 1/2 pound of shelled raw shrimp,, 1 cup of heavy whipping cream,, 1 cup of Parmesan cheese shreds,, 1 cup of cheddar cheese shreds,, 1/2 stick of butter,, 1/2 cup of minced Red pepper,, 1/4 cup of minced onion,, 1/4 cup of minced Garlic,, Spices, Thyme, Paprika, Salt, Pepper,,
Recipe instructions: Heavily butter a large casserole dish and layer the bottom with the Parmesan cheese. Arrange the Cod in the middle and ring it with the shrimp. In a sauce pan pearl the Garlic, Onion, Pepper in the butter. When pearled add in the heavy cream and the spices and bring to almost a boil. Pour the heavy cream mixture over the top of the fish and shrimp, cover with another cup of cheese shreds. Bake at 400 for nearly 60 minutes.
General Comments : You can also add in additional cheese on top when nearly done and place under the broiler to get a crisp cheese crust on top.
Estimated Servings: 8
Calories per Serving: 225
Carbohydrates: 1
Fiber: 0
Carbs-fiber: 1
Protein: 21
Fat: 14
Type of Recipe: "American"
(Sent via T2DCoaching http://t2dcoaching.com )