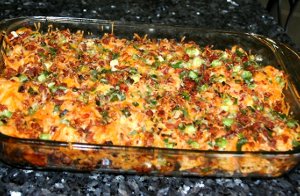 FaceBook Name: Thor Baker
Creator of the Recipe: Thor Baker
Recipe Name: Chicken Cauli Casserole
Estimated Prep Time: 60
Ingredient List and Amount used: 1 Chopped Rotisserie Chicken or whole boiled chicken 1 Large head of Cauliflower shredded 2 cups of cheese shreds 1/2 cup of heavy cream 1/2 pound of bacon cooked and chopped Garlic Onion red pepper green pepper Spices, salt, pepper, thyme, rosemary, parsley
Recipe instructions: Grate the raw cauliflower and place in a microwave safe bowl, add a few tabs of butter and microwave until tender. Debone and chop the chicken, add all of the remaining ingredients except 1 cup of the cheese. Spread out in a heavily greased casserole dish and top with the remainder of the cheese shreds. Baked at 350 for about 30 minutes.
General Comments : To build a crispy top you can add a layer of Parmesan cheese shreds on top and place under the broiler when ready to serve.
Estimated Servings: 18
Calories per Serving: 172
Carbohydrates: 3
Fiber: 1
Carbs-fiber: 2
Protein: 9
Fat: 13
Type of Recipe: "American"
(Sent via T2DCoaching http://t2dcoaching.com )