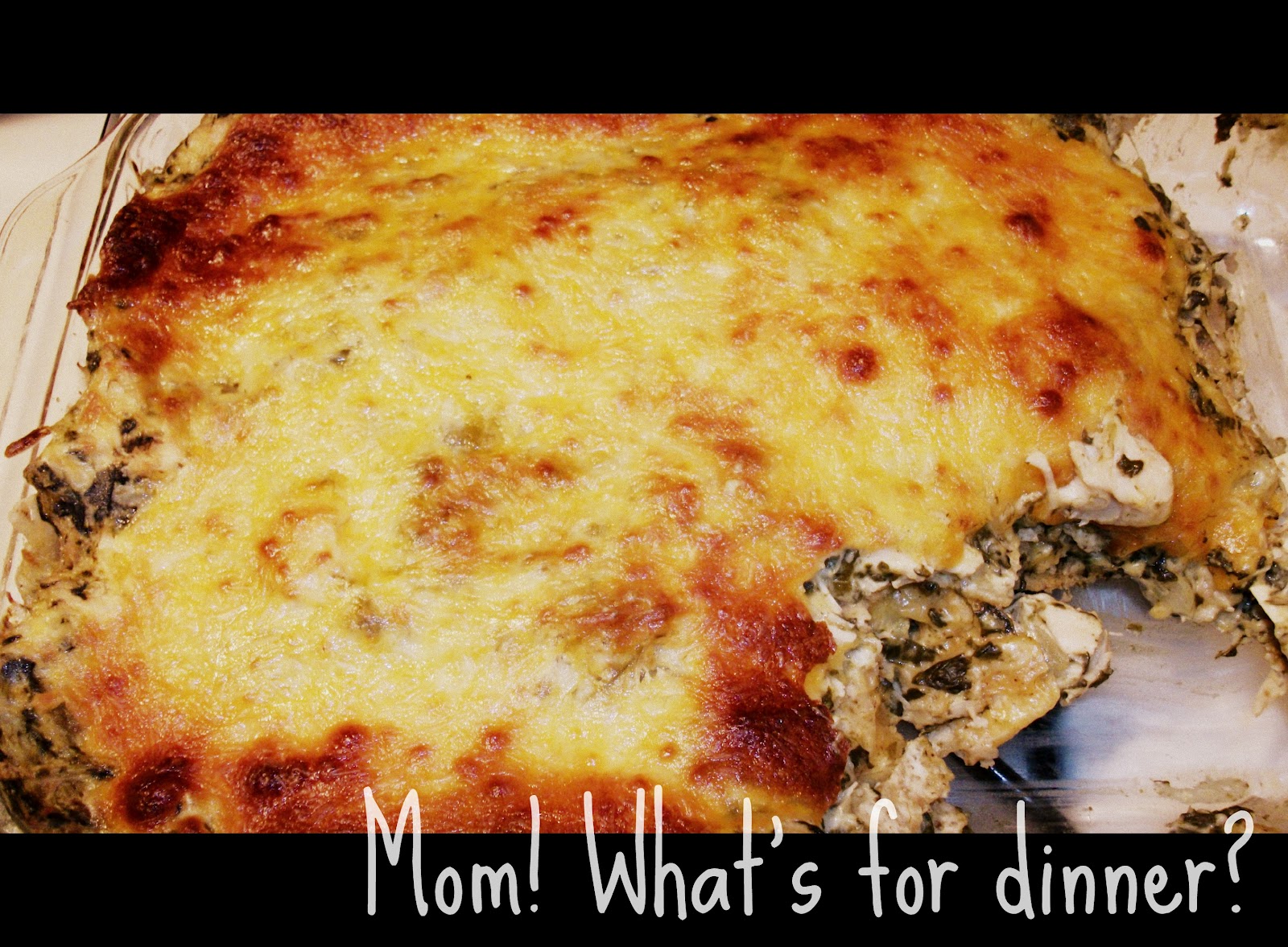 FaceBook Name: Polly Weston
Creator of the Recipe: Polly Weston
Recipe Name: Cheesy Spinach Chicken Bake
Estimated Prep Time: 30 minutes
Ingredient List and Amount used: 1 small bag of baby spinach (about 4 cups) 4 tbs. butter 1 tbs. dried chopped onions (you can use fresh, I just didn't have any on hand) 1/4 cup heavy cream 1 cup Kraft 5 Italian Cheese Blend shreds 1/4 cup Philadelphia Cream cheese 1/2 cup Parmesan cheese (shredded) 1/4 tsp red cayenne pepper 1 lb. chicken breast tenders
Recipe instructions: Melt 2 tbs of butter in a non stick skillet and cook chicken tenders through. Set aside. In a medium sized saucepan, melt the other 2 tbs of butter and add dried chopped onions. Simmer until onions soften and brown. Add spinach, one cup at a time tossing with butter and onion. Continue to add spinach until all has been combined and wilted. Stir in heavy cream, shredded cheese and cream cheese. Stir often on med-low heat until all cheese as melted. Stir in cayenne pepper. Layout chicken strips in an oven safe casserole dish. Pour cheesy spinach sauce over chicken. Top with shredded parmesan and bake at 350 degrees until top is bubbly and brown.
General Comments : Carb Information (for entire recipe) Spinach 4g carb Butter 0g carb Dried Onions >1g carb Kraft Italian Cheese 4 g carb Cream cheese 2.25g carb Parmesan cheese 2g carb Cayenne pepper 0g carb Chicken breast tenders 0g carb Approximately 13.25g carb / 4 servings = 3.3g carbs each You could leave out the chicken and use this as a dip or side dish. Super rich and creamy!!
Estimated Servings: 4
Calories per Serving:
Carbohydrates: 3
Fiber:
Carbs-fiber:
Protein:
Fat:
Type of Recipe: "American"
(Sent via T2DCoaching http://t2dcoaching.com )