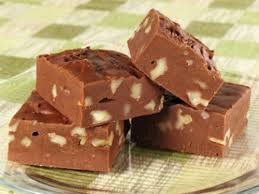 FaceBook Name: Thor Baker
Creator of the Recipe: Thor Baker
Recipe Name: Walnut Fudge
Estimated Prep Time: 15 minutes, 2 hrs set time
Ingredient List and Amount used: 1 cup Heavy whipping cream, HWC 8 oz. unsweetened bakers chocolate 1 cup of Erythritol (personal choice) 3/4 cup of Splenda (personal choice) 1 Tsp Vanilla Pinch of salt 1/4 cup of Peanut Butter 1/4 cup of coconut oil 4 Tbls of buttter 1 cup of chopped Walnuts
Recipe instructions: Bring the HWC to a boil in a medium sized sauce pan under medium heat. Add in all of the above ingredients except the Walnuts, stir constantly until everything is melted and mixed well. Remove from heat and stir in the Walnuts, immediately spread out in a lightly greased casserole dish. Refrigerate until set, approx 2 hours. You can also freeze until set.
General Comments : You can leave this fudge out of the fridge after it sets for extended periods of time with out fear of it melting.
Estimated Servings: 24
Calories per Serving: 166
Carbohydrates: 4
Fiber: 2
Carbs-fiber: 2
Protein: 3
Fat: 17
Type of Recipe: "American"
(Sent via T2DCoaching http://t2dcoaching.com )