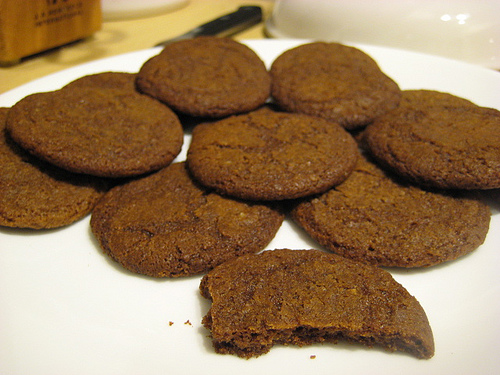 FaceBook Name: Thor Baker
Creator of the Recipe: Thor Baker
Recipe Name: Ginger Snappies
Estimated Prep Time: 45
Ingredient List and Amount used: 3/4 cup of Almond Flour 1/8 cup of Ginger 1/8 cup of Psyllium Husk powder pinch of salt 1/2 cup of Splenda or other sweetener drop of vinegar 1 tsp of dark molasses
Recipe instructions: combine all of the ingredients in a mixer or food processor. While mixing slowly add in about 1/2 cup of warm water. You want the dough to be a hard ball not soft. Roll out between parchment paper and cut out cookies or you can bake the whole thing and break into pieces. Bake at 350 for nearly 45 minutes. Let cool completely before handling.
General Comments : These go really good with that first cup of coffee int he morning. The nutrients below do not include the psyllium nor the artificial sweetener used.
Estimated Servings: 24
Calories per Serving: 21
Carbohydrates: 0
Fiber: 0
Carbs-fiber: 0
Protein: 0
Fat: 1
Type of Recipe: "American"
(Sent via T2DCoaching http://t2dcoaching.com )