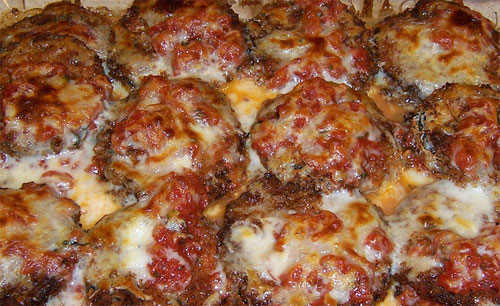 FaceBook Name: Thor Baker
Creator of the Recipe: Thor Baker
Recipe Name: Egg Plant Casserole
Estimated Prep Time: 60 min
Ingredient List and Amount used: Large eggplant peeled and sliced thin small onion, sliced small box of mushrooms sliced 1 green pepper, sliced 1 cup of Swiss cheese shreds 1 cup of Italian cheese shreds 1 small container of low carb pizza sauce Spices, salt, pepper 1-2 pounds of smoked sausage cut into bite sized pieces 1-2 cloves of minced garlic
Recipe instructions: Peel and slice the eggplant and lay into the bottom of a greased baking dish, bake uncovered in a 500 degree oven to remove some of the moisture in the eggplant. Once the eggplant has dried up some what cover it with the peppers, onions, mushrooms, and smoked sausage. Spread out the pizza sauce evenly and return to the 500 degree oven until it is bubbling. Remove from oven and spread the cheese shreds on top and place under the broiler till brown.
General Comments : If I can get away with it I will add a few Jalapenos to this dish. The nutritional information does not include the pizza sauce.
Estimated Servings: 9
Calories per Serving: 294
Carbohydrates: 5
Fiber: 2
Carbs-fiber: 3
Protein: 19
Fat: 21
Type of Recipe: "Italian"
(Sent via T2DCoaching http://t2dcoaching.com )